2020年军队职称英语考试《理工类》模拟试题第9套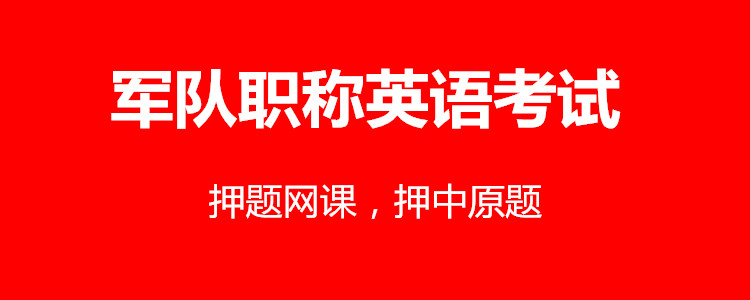 1.We are grateful for a holiday after a year of hard working
  A.appreciate
  B.notice
  C.describe
  D.discover
  正确答案:A
  2.People say that the mayor can be relied on in a crisis
  A.believed in
  B.depended on
  C.lived off
  D.lived on
  正确答案:B
  3.We have made an effort but failed
  A.tried
  B.attacked
  C.attracted
  D.attended
  正确答案:A
  4.It is already 8 o'clock, but the guest hasn't shown up yet
  A.appeared
  B.got up
  C.waken up
  D.sleep
  正确答案:A
  5.It is too late, the plane has departed
  A.left
  B.arrived
  C.separated
  D.crashed
  正确答案:A
  American Families?
  1 Despite social and economic differences among Americans, many American families have certain characteristics in common. Both the husband and wife were born in the United States, and their forefathers came from Europe. They have completed high school, and they belong to the middle class. They have a car, a television set, a washing machine, a refrigerator, a telephone, etc. They own their own home and spend about 55% of their income for housing and food. Clothing accounts for almost 10% of their income, medical care 6%, transportation 8% and taxes 15%. The rest of their income is used for such items as insurance, savings, gifts, and recreation. ?
  2 Most families consist of a mother, a father, and, at most, two children living at home. There may be relatives?—grandparents, aunts, uncles, cousins living in the same community, but American families usually maintain separate households. This family structure is known as the "nuclear family". It is unusual for members of the family other than the husband, wife, and children to live together. ?
  3 Marriage in the United States is considered a matter of individual responsibility and decision. Young people frequently fall in love and marry even if their parents disagree. American marriages are usually based on romantic love, rather than on social class, education, or religion. ?
  4 After their marriage the young couple is free to decide where to live and when to start a family. Most young couples set up their own household immediately. In the early 1970s only 15% of all married couples were not living on their own—independently and by themselves. Most married people practise some kind of birth control. They plan the number of children they are going to have and when their children will be born. The practice of limiting the size of families has general approval. The birth rate has been declining steadily in recent years. ?
  23 Paragraph 1?
  24 Paragraph 2?
  25 Paragraph 3?
  26 Paragraph 4?
  A Post-marriage Life?
  B The Birth Rate in the Early 1970s?
  C Usual Family Structure of American Families?
  D Features in Common in Many American Families?
  E Marriage Concept in USA?
  F In Marriages Usually Romantic Love Is as Important as Social Class, Education, or Religion
  27 There are among many American families. ?
  28 Young Americans make on marriage. ?
  29 Most married couple don't . ?
  30 The birth rate over the last few years. ?
  A live with their parents?
  B their own decisions?
  C most American families are usually small?
  D the family structure?
  E some similar features?
  F has been dropping?
  答案:23 B 24 D 25 A 26 E 27 A 28 E 29 B 30 D
  Are You Rich
  It was Thanksgiving morning and in the crowded kitchen of my small home I was busy preparing the traditional Thanksgiving turkey when the doorbell rang. I opened the front door and saw two small children in rags huddling together inside the storm door on the top step.
  "Any old papers, lady?"
  I was busy. I wanted to say no -- until I looked down at their feet. Thin little sandals, sopped with sleet.
  "Come in and I'll make you a cup of hot cocoa."
  There was no conversation. Their soggy sandals left marks upon the hearthstone. I served them cocoa and toast with jam to fortify against the chill outside. Then I went back to the kitchen and started again on my household budget.
  The silence in the front room struck me. I looked in. The girl held the empty cup in her hands, looking at it. The boy asked in a flat voice,
  "Lady ... are you rich?"
  "Am I rich? Mercy, no!" I looked at my shabby slipcovers. The girl put her cup back in its saucer--carefully.
  "Your cups match your saucers."
  Her voice was old, with a hunger that was not of the stomach. They left then, holding their bundles of papers against the wind. They hadn't said thank you. They didn't need to. They had done more than that. Plain blue pottery cups and saucers. But they matched.
  I tasted the potatoes and stirred the gravy. Potatoes and brown gravy, a roof over our heads, my man with a good steady job -- these things matched, too.
  I moved the chairs back from the fire and tidied the living room. The muddy prints of small sandals were still wet upon my hearth. I let them be. I want them there in case I ever forget again how very rich I am.
  1.Two children appeared before the writer's house in Thanksgiving day and they asked for some food from the writer
  A.Right B.Wrong C.Not mentioned
  2.The writer was so willing to throw the old papers away that she gave the papers to them at once
  A.Right B.Wrong C.Not mentioned
  3.The writer showed her sympathy to the children because they were orphans
  A.Right B.Wrong C.Not mentioned
  4.The children didn't say anything when the writer let them come into her house
  A.Right B.Wrong C.Not mentioned
  5.The girl gave her compliments to the cups and the saucers
  A.Right B.Wrong C.Not mentioned
  6.The children left the writer's house and they showed their gratitude in words to the writer
  A.Right B.Wrong C.Not mentioned
  7.The writer thought that she was rich because she had a husband with a good steadyjob and a daughter and a son
  A.Right B.Wrong C.Not mentioned
  答案:BBCAABC
  How to Start a Small Business in the US
  People from other countries often take America as the "land of opportunity". Americans, too, believe that the country gives no end of chances to those who want toopen their own businesses. Today, many Americans are still trying hard to become small business people, although only one out of two remains in operation after the first two years.
  Many people start their small businesses for the wrong reasons. They want to get awayfrom the paper work of their present jobs, or to exchange the responsibility of their present jobs for free life styles. But more, not less, paper work and responsibility come with ownership of a small business.
  Thomas is the owner of the news magazine Mother Earth, which is now quite successful. He says that he had to work sixty hours without stopping when he was trying to bring out the first issue.
  Thomas had waited for years after he came up with the idea for Mother Earth. During that time, he collected as much information as he could about his business. He borrowed books from the library, talked to successful people in the field, and began planning carefully the amount of money and the kinds and numbers of supplies he would need. When he finally opened with a capital of $1,500,he set up his office in the kitchen and his printing press in the garage. Owing to his devotion(投入)to business, his talent, and his skill in management, Mother Earth? now has a circulation(发行量) of 300,000.
  Not all small businesses are doing as fine as Mother Earth as 50% of the 450, 000 that start in America every year fail. Still, 95% of businesses in the US can be called "small". Altogether these businesses amount to 40% of America's gross national product(国民生产总值). ?
  31 According to the passage, which of the following is true of the small businesses in the U. S. ??
  A All of them close down in the first two years. ?
  B Most of them fail within the first two years. ?
  C They all make big profits. ?
  D Only half of them continue to operate after the first two years. ?
  32 According to paragraph 2, many people start small businesses in order to?
  A do heavy work or earn more money. ?
  B do less paper work or take less responsibility. ?
  C do more paper work or take less responsibility. ?
  D do light work or live quiet lives. ?
  33 What preparations did Thomas make before he started his business??
  A He stayed at home. ?
  B He borrowed money from a bank. ?
  C He made investigations and drew up a plan. ?
  D He wrote a book. ?
  34 Thomas'success can be attributed to?
  A his talent, his skill in management, and his devotion to his work. ?
  B his good luck. ?
  C his good relations with a business manager. ?
  D his good treatment of his workers. ?
  35 How many businesses in the U. S. can be called "small"??
  A 5%. ?
  B 40%. ?
  C 50%. ?
  D 95%. ?
  答案:31 D32 B 33 C34 A35 D
  So What
  A man was coming home late one night—about three o'clock in the morning—when he saw a guy standing in front of a house with a horse. The man with the horse stopped him and said," 46 "
  "Well, what would you like me to do?" asked the passer-by.
  "I want you to help me get this horse upstairs. "
  "Why?"
  " 47 I haven't got time to explain. Would you just help me, please?"
  Together they pushed the horse up the steps and into the hallway, then up three flights of stairs and into the man?s flat. When they got inside, the man with the horse said," 48 "
  Fearful that he might be dealing with a mad man, the passer-by helped the man liftone foreleg(前腿),then the second foreleg, then one hind(后面的)leg, then the second hind leg, and there stood the horse in the bathtub.
  "Now, " said the passer-by, "would you mind telling me what this is all about?"
  "Well, " said the man with the horse,"I'll tell you. I've got a brother?in-law who lives here with me. 49 I can't tell him anything. No matter what I tell him, he says, 'So what!'No matter what information I give him, he says, 'So what!' He's out late tonight. 50 I want him to come upstairs, open the door, take off his clothes, put on his pajamas, go into the bathroom, then come running out yelling,'Sol!Sol!There's a horse it the bathtub!' and I'll say, 'So what!'"
  A Well, I can't tell you at the moment.
  B He is a very smart fellow.
  C The man with the horse got in side.
  D Brother, could you give me a hand here?
  E He'll be home about four o'clock.
  F Now will you help me get the horse with his feet in the bathtub?
  答案:46 D47 A 48 F 49 B 50 E
  Sharks Perform a Service for Earth's Waters
  It is hard to get people to think of sharks as anything but a deadly enemy. They are thought to 51 people frequently. But these fish perform a 52 service for earth's waters and for human beings. Yet business and sport fishing are threatening their 53 Some sharks are at risk of disappearing from 54 .
  Warm weather may influence both fish and shark activity. Many fish swim near coastal areas 55 their warm waters. Experts say sharks may follow the fish into the same areas, 56 people also swim. In fact, most sharks do not purposely charge at or bite humans. They are thought to mistake a person 57 a sea animal, such as a seal or sea lion. That is why people should not swim in the ocean when the sun goes down or comes up. Those are the 58 when sharks are looking for food. Experts also say that bright colors and shiny jewelry may cause sharks to attack.
  A shark has an extremely good sense of smell. It can find small amounts of substances in water, such as blood, body liquids and 59 produced by animals. These powerful 60 help sharks find their food. Sharks eat fish, any 61 sharks, and plants that live in the ocean.
  Medical researchers want to learn more about the shark's body defense and immune 62 against disease. Researchers know that sharks 63 quickly from injuries. They study the shark in hopes of finding a way to fight human disease.
  Sharks are important for the world's 64 . They eat injured and diseased fish. Their hunting activities mean that the numbers of other fish in ocean waters do not become too 65 This protects the plants and other forms of life that exist in the oceans.
  51. A attack B meet C love D visit
  52. A terrible B eatable C valuable D possible
  53. A source B existence C friends D fish
  54. A Space B Sky C Land D Earth
  55. A because B since C because of D by reason that
  56. A whose B which C that D where
  57. A to B for C like D with
  58. A times B places C seas D oceans
  59. A sciences B mathematics C chemicals D physics
  60. A feelings B senses C touches D tastes
  61. A those B these C another D other
  62. A systems B processes C ideas D circles
  63. A recover B reform C return D rely
  64. A rivers B oceans C forests D mountains
  65. A weak B little C few D great
  答案:
  51 A 52B 53 C 54 D 55 C
  56 D 57 B 58 A 59 C 60 B
  61 D 62 A 63 A 64 B 65 D
温馨提示:因考试政策、内容不断变化与调整,长职理培网站提供的以上信息仅供参考,如有异议,请考生以权威部门公布的内容为准! (责任编辑:长职理培)